ICUBE ENGINEERING SOLUTIONS enable foundries to effectively design evaluate and optimize their casting design. Our service will help you to avoid expensive trial and error processes on real prototypes during the product and development cycle, which will save expensive material, labour cost and manpower. Using ESI software's we assure defect free quality products as desired by the end user.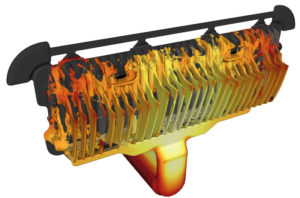 OUR CASTING SIMULATION SERVICES
Yield Improvement
3D Design Of Casting
Simulation of the existing method
New casting method design & development
Simulation of new method design
Standard report generation for approval
Filling Results
metal temperature
metal velocity
air movements
air entrainment
surface defects or oxides
local gas pressure
Solidification Results
temperature
solid fraction
liquid fraction
hot spots
macro porosity
micro porosity
Methoding solution
Gravity Casting
Most gravity casting processes, including sand mold, permanent mold and tilt pouring, can be quickly modeled with ESI's QuicKAST.
Exothermic sleeves, chills and filters are easily and automatically set up according to the process parameters. The embedded thermodynamic database in Visual-CAST offers graphite precipitation, thereby accurately predicting the shrinkage porosity, taking into account the expansion of cast irons.
Misrun, Gate balancing, thermal modulus and Hot Spots result can be visualized to validate the size and the position of the risers.
Pressure Die Casting
ESI's QuikCAST has a complete set of dedicated tools model the pressure die casting processes.
During solidification simulation, the evolution of the solid fraction is valuated and used to predict shrinkage locations. Air back pressure calculations together with appropriate user-defined pressure condition allow the simulation of vacuum casting processes.
Investment Casting
ProCAST is able to automatically generate a mesh representing the shell mold suitable for investment casting. Furthermore, it has dedicated features to address the specific needs of investment casting foundries like allowing for non-uniform shell radiation with view factors, including shadowing effects, which are critical for high temperature alloys, are taken into account
Sand Casting
The key to success in a sand casting foundry is the optimization of the gating system and eliminating the risk of shrinkage porosity. ESI's ProCAST allows comprehensive modeling of any sand-casting process, including the high-pressure molding line, and allows users to study effect of feeder location, filters, chills, insulation & exothermic sleeves on the casting process and quality. Different aspects, including filling solidification & residual stresses can also be studied
Combining an intuitive and progressive user interface, ESI guides modelers through successful projects delivering accurate predictions of filling and solidification defects. Available in Suites for Below Listed Casting Process