Icube Engineering Solution Is an Authorized Re-seller for ActCAD Software, ActCAD is an Indian made CAD software Which is equivalent to other well-known CAD software.
ActCAD has been consistently providing CAD Solutions for years and is the leading Indian CAD Software trusted by over 1 Million happy users worldwide. ActCAD is the running on the latest 8.4b CAD Engine from IntelliCAD to ensure a smooth and fast CAD performance. A power-packed genuine CAD Software available to you at a reasonable price.
ActCAD is a 2D Drafting and 3D Modeling CAD Software meant for Civil Engineers, Architects, Mechanical Industries and other technical consultants. ActCAD is a native DWG & DXF CAD software to create and edit drawings. ActCAD is based on the technologies from IntelliCAD Technology Consortium (ITC), ODA Teigha Libraries, ACIS 3D Kernel, Wintopo, ps2edit etc. ActCAD uses the most recently released version of IntelliCAD cad software to offer the best performance and features to its users. ActCAD as many add-on commands and features supplementing core IntelliCAD making ActCAD more productive than its competition. In addition, ActCAD CAD Software includes many other tools like Block Libraries (in the domains of Civil, Mechanical, Electrical, Architectural, Structural, P &IDs etc.), Batch file converter, Units converter and many other productivity enhancement tools.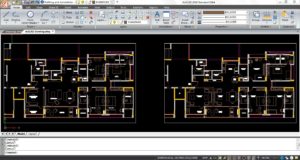 Why to Invest on ActCAD ?
Top reasons to choose ActCAD:
1st Indian CAD Software: Support and services directly provided across the country
Permanent validity of Licenses
Self-License Transfer between computers
Global validity – buy anywhere, use anywhere
Best in Class Technical Support- Reach us with any queries, we assure 100% customer satisfaction.
Native DWG & DXF File Formats (R2 to DWG2018 Supported)
Very Low Price : With Full Features & Functions
5000+ Block Libraries Available: Classified Blocks readily available for Civil Consulting Engineers, Mechanical, Electrical, etc.
Free API Customization Toolkits for all versions.
No Special Learning : Familiar interface, commands & Icons
Best Performance : True power of 64bit & Multi-threading
ActCAD Converter : Batch Auditing & File Conversions
PDF Export : Both 3D PDF & 2D PDF Export
PDF to DXF : Open vector PDFs in ActCAD and edit the entities
Raster to Vector : Image/Scanned Drawings to DXF Conversion
Express Tools & Add-on Features
Frequent releases with enhancements and bug fixes
Many Features & Improvements on top of IntelliCAD core.